---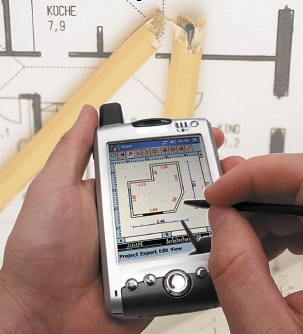 With the ruling and thick use more and more of the smartphonesa, OMNI DATA has continued the study and the Mobile conversion of his productions Project for the environment of the linkable smartphones to the Web.
OMNI DATA has produced and made available SHAPE for the Pda, or identifi ed more simply as smartphone, based on Pocket PC - S.O. Windows Phone / Mobile.

Now, with the same possibility to operate in analogous simple formality creating ambients and perimeters, totally compatible with TILECAD© (with 3D conversion) and TILENet© producing projects of layings ceramics, is available for all Phone processors of the last generation.

Useful and practical in the use of yard, for planners, architects, layers and commercial, totally customized, multilingual ( 6 languages and double misurement system : Metric and Anglo-Saxon) , easily distributable on/off line for download it from PC, it is ahead surely a footstep in the distribution of computer services from fi rms that intend to use some last technologies of marketing to be more and more present in a competitive market.

The systems are produced in native C++ in environment WIN Phone/ Mobile , therefore totally you optimize, and riassembled according to about ten different processors to get maximum reliability and any maintenance. It doesn't need any learning for the extreme simplicity of use, immediate and entirely similar to the other computer productions
.