TILE Gadget
---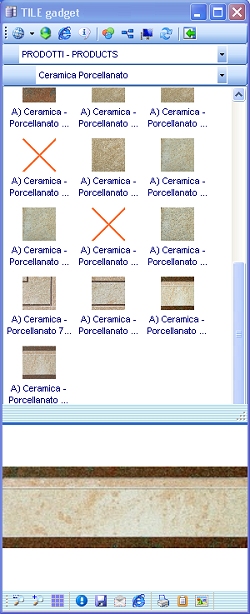 Gadget software for your desktop
( videocatalogue online)
The program software TILE Gadget of OMNI DATA allows the simple and fast distribution of the videocatalogue of the business productions.
Always present on the desktop of the consumer and in constant connection to the business file server for the update maintenance constantly of the data.
Extremely simple in the use, any end user, distributor, technical it is able to install and to use the procedure. Already anticipated in 5 languages (Italian, French, German, English, Spanish) and autosetup for all the versions of operating system Win XP / VISTA / 7.
Principals technical characteristic:
automatic download and updating of the database

searches with keys (typologies, series)

graphic visualization of all the productions with automatic download of the images directly from file server

options of visualization (transparency, colors, position, etc.)

automatic visualization with previews and zoom in real time

extraction and save in local, prints, connection to the paints

info direct link to the institutional sites

creation automatic pages html and email

multilingual and auto-setup

The procedure is totally customized both as graphic interface of front-end both as structure of the date-basic ones and the search keys. You can be entertained and distributed both on-line (around 0,5Mb comprehensive of the database and of the installer) both on physical support (card-CD, mini-CD, pendrive, etc.)
The anticipated functions and the data base for TILE Gadget are analogous to the program Catalog, distributed in the library TILECADİ and it's therefore interchangeable and totally compatible.
For downalod DEMO versions from OMNI DATA Download Center (to choose the option 'Open' from the window of download), or
To download a demonstrative, complete and totally functional with enclosure date-base of products standard
To installation will be asked (if not already present and only for systems not Win Vista) download and setup Microsoft .NET Framework..