TILENet™ DEMO
---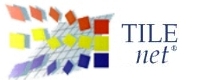 Program of planning of ceramics layings, cooked, woods, marbles and hard stones.
For O.S. Windows XP / VISTA / 7
For you use TILENet™ Demo to unload and open the file TILENET.EXE . Launch the automatic installation and start (in English language). It needs a connection internet and of the other files of date-base enclosures that are installed following the driven procedure.
TILENet™ Demo is complete of all the procedures and of a small datebase of predisposed products.

Interior the program TILENet© Demo can activate the procedure of on-line help ( in Italian and English language ) directly to deepen the functionalities and to learn the use of it.
For downalod versions (to choose the option 'Open' from the window of download) :

TILENet DEMO per Win XP / VISTA / 7