TILENet™
---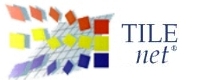 Program of planning of ceramics layings, cooked, woods, marbles and hard stones.
For O.S. Windows XP / VISTA / 7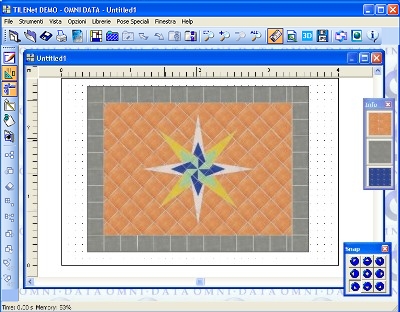 TILENet© is a procedure of facilitation to the planning of layings of ceramic and similar products, simple in the use and extremely functional that it allows an elevated productivity and creative liberty and of composition.
Directly downloading quickly in internet in a few second, auto-install and start in 14 languages :
| | | | | |
| --- | --- | --- | --- | --- |
| | | | | |
| Italian | English | French | German | Spanish |
| | | | | |
| Portuguese | Polish | Greek | Russian | Japanese |
| | | Ελληνική | РУССКИЙ | 日本だ (仮名) |
| | | | | |
| Chinese | Korean | Arab | Jewish | |
| 汉语 (拼音) | 한국말 (한국어) | العربي | יהודי | |

Totally modifiable is as date-base (list products, images , etc.) and besides on-line linking from the firm site for the distribution, the up-dates and I unload it of the data and of the updatings.
Principal procedures:
any type of laying of floor and covering

laying of lines or for filing

creation of the perimeter of laying

simple editing with procedures of undo-redo

photographic visualization of the products and the laying

complex layings and automatic bordature

management of the escapes and the joints

creation and memorization of preformed panels

creation and memorization of preformed forms

creation of forms of cut and water-cut

laying of mixtures, mosaics, cuts

insertion of images in trasparency from library of over 500 .gif

view VirtualTILE 3D

print and memorization of the projects

metric calculation

export OBDC of metric calculation to firm CED for customer orders

reading and updating of the data and on-line images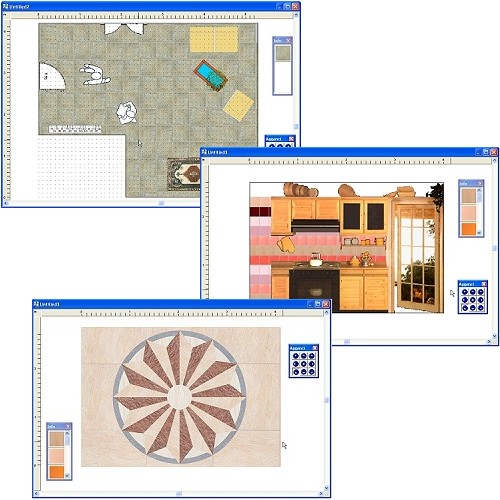 On demand, it is possible to add the procedure EXPORT HTML for the automatic creation of the layout of the project of laying in formed HTML, directly visible on the local brower, printable, memorized and to send by e-mail widh attachment :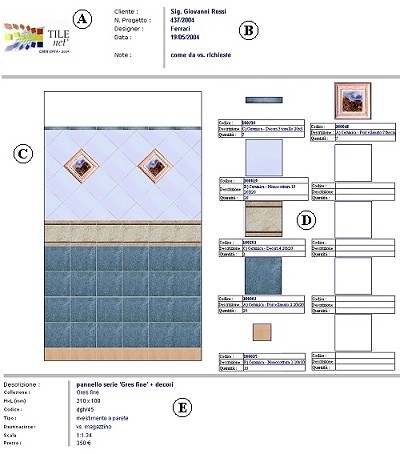 Legend:
| | |
| --- | --- |
| A | Business Logo |
| B | General information and annotations |
| C | Image of the project in scale |
| D | List of the present products in the project (image, code, description, quantity) |
| E | Specific information, geometric and of price. |
Inside layout the links of enlargement they are foreseen both already of the project of laying that of the single products as well as the connections to the business pages to get further information and technical specifications.
The layout of the paginated of base is totally customized from the consumer with a word processor and optimized for the print on A4.
Already foreseen the translations in language and the on-line setup.
From the version 2005 have been add the technology VirtualTILE of OMNI DATA that it allows the three-dimensional and interactive visualization of the plans of laying planned. With the only and simple use of the mouse it is possible instantly and in real time to make to rotate, to move and to zoom in space 3D any product or plain of laying in realistic form and in photographic quality.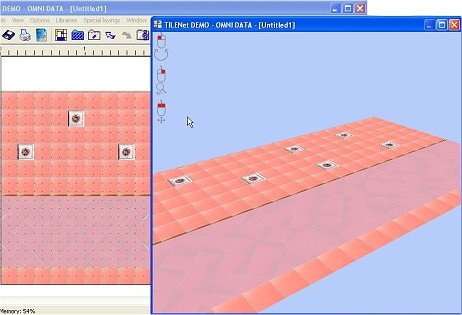 To download a demonstrative, complete and totally functional with enclosure date-base of products standard and help
To download brochure TILENet ( .pdf format )