TILES Calculator
---

Software for calculation of surfaces and ceramic edgings
For systems WIN XP / VISTA / 7
FREE WIDGET
TILES Calculator is a simple and immediate but useful program for the fast calculation of the quantity of required tiles for a laying in an area and/or in a perimeter defined by the consumer.
OMNI DATA makes his for personal use to all the consumers free and to facilitate the daily job of planning and fast estimate.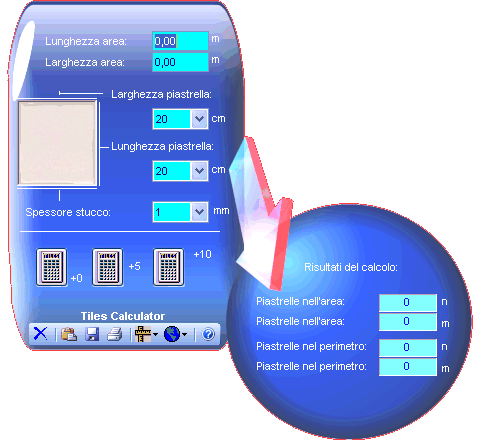 The principal characteristics he can reassume :
Choice of the system of measure ( metric or in ft.-in. )

Input of dimension of the area, the tiles and the joint

Calculation of the quantity of product with possibility of addition of percentages

Calculation of the quantity of product in the edging

Print of the elaboration

Memorization in clipboard or in file. TXT for passage dates to other programs.

6 languages (Italian, English, German, French, Spanish, Portuguese)
For you use TILES Calculator to download and to launch the automatic installation (only in language English) or from link:
The concession and the license of use it foresees the exclusive private use of the program (freeware).
It is not granted I unloadit, the duplication and the use to firms or to corporate body not concessionaires of the program
TILECAD© , TILENet© and SHAPE without information and declaration written of OMNI DATA.
For ulterior information and limitations it is begged to read it attentively: