Functionality
The library of procedures software TileACAD is totally integrated in AUTOCAD® and specialistics (Architectural Desktop, Civil, etc.). Allows to seek, to extract and to place products and ceramic and material panels/moduls from covering inside areas, perimeters and environments 2D/3D according to a double formality: in formed Raster using the photographic images of the tiles or in formed VECTOR with the use of pattern and forgeries.
Generic functionality
- Chosen language (Italian, French, English, German, Spanish, Portuguese).

- Metric and Anglo-Saxon System of measure.
- Management of the images raster.
- Connection to the procedures Autocad© of personalization.
- Self-setup with creation of iconic bar and menu.
- Organization of the window with maintenance of the position.
- Memorization of the data and the effected choices.
Principal functionalities RASTER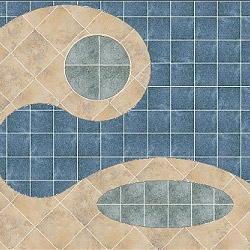 - Search in database produced with keys for typology, series and format.
- Management of the geometries (set point, scale, rotations).
- Insertion of single products or panels/moduls.
- Laying of groupings for lines and columns.
- Laying within closed areas (polylines 2D, circumferences, ellipsis, etc.).
- Textures and effect zero joint.
- Management of the stonalizzazionis.
- Automatic insertion of explanations and logo.
- Control of the layerses (name, color, blocks, etc.).
- Automatic creation of the blocks.
- Control of the visualizations and the images.
- Management database and creation of panels/moduls.
- Direct link www to the pages of information on the product.
- Automatic clipping of the images according to various possibilities.
- Calculation of the inserted products and export.

- Axonometries ( false 3D )


- Quote.

Principal functionalities VECTOR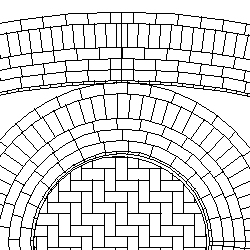 - Management database of the forms with association of the patterns.
- Management database of the forms in form of blocks to free sketch.
- Management database of the edges (up to 10 products for edging).
- Automatic laying of forms within any closed surface.
- Coloration, scale and rotation of the patterns
- Free or automatic positioning of the point of insertion.
- Management of the inside islands to the area of laying.
- Automatic laying of the edges on any opened or closed perimeter.
- Laying for following series, inside, external, etc.
- Automatic management of the closings of angle and the tangencies.
- Automatic laying of circolar of edgings.
- Automatic calculation of the metric calculation of the layings.
- Library preformed of the principal layings with relative patterns.